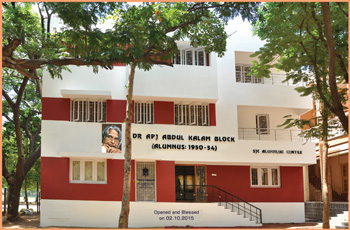 The Alumni Association of St Joseph's College was started in 1983. Rev Fr S M Felix SJ was the first Director. Along with him, a band of committed and generous Executive Committee members invested their time and energy for the welfare and growth of the Association. Seven Jesuits have served as the Directors of the Association and have taken the Association to newer heights with the support of the former Presidents and the members of the Executive Committee.
Mr. D Stanislaus, a famous advocate, and our alumnus deserves special mention. He was the President of the Association for almost two decades. He has been nurturing the association like his child. At present, he is the Honorary President of the Association.
The Association regularly conducts Annual General Body Meetings and at least three executive committee meetings are held in a year as per the memorandum. During its AGBM, the Association has a very good custom of honouring the Retiring Staff and the outstanding Personalities in Trichy for their meritorious service rendered to the Society in various capacities.
Joseph Alumni Association Competency Series (JAACS) is a new venture of the Association. It was started from 2009 to bridge the young & the old and the past & the present. In this series the alumni are invited to orient, motivate and inspire the present generation through the sharing of their experiences and achievements.
The XII South Zone Congress of the Jesuit Alumni which was held from 28-29 December 2009 was a milestone in the history of the Association. Dr. A P J Abdul Kalam, our alumnus and former President of our country and Thiru D Napolean, Minister of State for Social Justice and Empowerment graced the occasion. Around 500 delegates from the four southern states participated in the Congress.
From 2010 onwards, on the recommendation of the Executive Committee, the management has taken a decision to enroll all the outgoing Post Graduate students and M Phil scholars as permanent members of the Association. And the outgoing third-year students are made temporary members for five years after which they will be invited to renew their membership in view of becoming permanent members. The Executive Committee along with all the members of the Association place on record the support and encouragement extended by the Management, Former Directors, Former Presidents, Former Executive Committee Members and well wishers for the growth and development of the Association.
Presently...
Dr M Arumairaj is the President of the Association. The present Director Rev.Fr.S.Peter SJ is the tenth director of the Association from 2020 September onwards. The Association at present has 28 Executive Committee Members. There are 11925 Registered Alumni as on February, 2021.
Aims and Objectives